Archives for category:
Energy
PRO: Potential Energy Independence
Estimates by the United States Department of Energy put the number of recoverable barrels of shale gas at around 1.8 trillion. To put that into perspective, Saudi Arabia is estimated to have roughly 2.6 trillion barrels of oil reserves.
Christopher Booker writes for The Telegraph that there are enough world reserves to "keep industrialised civilisation going for hundreds of years"

CON: Water Pollution
A blog post by the Natural Resource Defense Council explains that "Opponents of such regulation [of fracking] claim that hydraulic fracturing has never caused any drinking water contamination. They say this because incidents of drinking water contamination where hydraulic fracutring is considered as a suspected cause have not been sufficiently investigated."
It then goes on to list more than two dozen instances of water pollution to which hydraulic fracking is believed to have contributed.
A new waterless method of fracking has been proposed, but environmentalists are skeptical.
CON: Leaks More Emissions Than Coal
Methane is a greenhouse gas and major component of shale's carbon footprint.
Cornell Professor Robert Howarth said about a study he conducted, "Compared to coal, the footprint of shale gas is at least 20 percent greater and perhaps more than twice as great on the 20-year horizon and is comparable when compared over 100 years."
PRO: Burns Cleaner Than Other Fossil Fuels
Researchers at MIT found that replacing coal power plants with natural gas plants could work as part of a plan to reduce greenhouse emissions by more than 50 percent.
CON: Hydraulic Fracking Has Been Linked To Earthquakes
Several earthquakes both in the U.S. and abroad have been linked to the hydraulic fracturing process.
One British company, Cuadrilla Resources, admitted in a report that its hydraulic fracturing process well "did trigger a number of minor seismic events."
PRO: Jobs
The industry currently employs more than 1.2 million people in the U.S., and the Department of Energy estimates that natural gas resources have increased nearly 65 percent due to fracking, according to a TreeHugger graphic.
Additionally, the gas industry accounts for about $385 billion in direct economic activity in the country, a Nature piece reports.
CON: Companies Don't Have To Disclose Chemicals Used In Process
Fracking is exempt from the Safe Drinking Water Act of 2005, thus allowing companies to conceal the chemicals used in the process.
PRO: Buys Time To Develop Renewable Energy
Former chief of staff to President Clinton and former head of the Center for American Progress John Podesta says natural gas can serve "as a bridge fuel to a 21st century energy economy that relies on efficiency, renewable sources, and low-carbon fossil fuels."
CON: Requires Large Amounts Of Water
The fracking process can require around five million gallons of water.
In some cases less than a third of that water is recovered.
CON : Fracking Our Food Supply
Are dying cattle the canaries in the coal mine? Farmers and ranchers are sounding alarms about the risks to human health of hydraulic fracturing.
http://www.thenation.com/article/171504/fracking-our-food-supply#
Northern Gateway President John Carruthers
(Sept. 4) – Northern Gateway president John Carruthers argues the pipeline is just as important to Canada as the St. Lawrence Seaway and the Canadian Pacific Railway…"when constructed, [they] laid the foundation for significant benefits for generations of Canadians. Our project is no different."
Robert Mansell, U of C School of Public Policy
(Sept. 4) – Robert Mansell, academic director of the University of Calgary School of Public Policy, argued the benefits the pipeline could have for Canada. "Just imagine a situation where, if not for Northern Gateway, you had shut in 525,000 barrels per day for one year. That loss works out to $40-million a day, or $14.4-billion per year," he said.
Leanne Chahley, lawyer for the Alta. Federation of Labour
(Sept. 4) – Leanne Chahley, a lawyer for the Alberta Federation of Labour, questioned the estimated economic gains. "It's still a social science that you're involved in, economics. How much degree of certainty should we give it?"
Gil McGowan, Alta. Federation of Labour President
(Sept. 4 ) – Albert a Federation of Labour argues the $6-billion line would mean 5% less refinery in Alberta and the loss of 8,000 jobs. "China is in the midst of a building boom in terms of refineries and refining capacity, so our fear is that if our policymakers allow this pipeline to be built we'll end up in a situation where our own homegrown refineries are no longer economic and they'll close down," federation president Gil McGowan said.
"We'll end up in a situation where we're sending our raw bitumen oil to China and then buying back the refined product."
John Carruthers, Northern Gateway President
(Sept. 4) – Northern Gateway president John Carruthers on the Enbridge's committment to environmental responsibility: "It involves assessing, in the same objective fashion, and according to the same standards, the information or evidence that has been presented by those who are opposed to the development of our project. And it culminates in approving the project under a framework of conditions that will promote reconciliation over division, and fact over rhetoric."
John Risdale, B.C. First Nations Chief
(May 2012) – B.C. First Nations leaders travel to the step of the Alberta Legislature to voice their concerns on the environmental damage. "The pipeline route that they have proposed is following the most major river system that we have and when the river is ruined, the people are ruined, the land is ruined," said Hereditary Chief John Ridsdale of the Wet'suwet'en First Nation.
Terry Lake, B.C. Environment Minister
(Sept. 4) – B.C. Environment Minister Terry Lake on how Enbridge plans to exceed world standards in spill prevention. "We certainly want to clarify with Enbridge some of the comments made over $500-million more of safety improvements and what exactly will that mean," Lake says. "In terms of monitoring, in terms of response capability, how can we ensure that any proponent would have to live up to what we consider world class response and mitigation measures."
Economist Robert Mansell, U Of C School Of Public Policy
(Sept. 5) – On the chance that the proposed Nothern Gateway pipeline would have a negative effect on central Canada's manufacturing sector: "It is not credible that one could argue this would cause Dutch disease."
"Would it do, as has been alleged — cause the rate of inflation to go up and then force the monetary authorities to tighten the money supply and thereby shrink the economy? The answer is no.
"Monetary policy is based on what's called the Core Inflation Rate, which excludes the price of food and energy."
Texas-Based Energy Consultant Muse Stancil
(Sept. 5) – In a report submitted to the hearing, Texas-based energy consultant Muse Stancil said the Northern Gateway will have an effect on oil pricing in North America: "It can be expected to have a material effect on the distribution patterns and pricing dynamics for Western Canadian crude, as crude producers for the first time will have a high-volume alternative to their historical markets within North America," said the Muse Stancil report.
"Northern Gateway allows the Canadian crude producers to both stop selling to their least attractive refiner clients (from a pricing prospective) and reduces their need to ship heavy crude via comparatively expensive rail transport."
Richard Johnston, UBC Political Scientist
Sept. 5 – On the chance the federtal Tories could lose ground in B.C. due to unfriendly policies such as support of pipelines to the west coast: "Among the risks to their base, I would put Northern Gateway highest," Johnston said.
"The risk/benefit ratio (for B.C.) is massively unfavourable in itself and if the government were to force the issue pre-emptively, they would add an additional dimension to the debate, singling out one province for ill-treatment, rather like the NEP and Alberta. I expect Conservative MPs are worrying about this aloud."
Elisabeth Graff, B.C. government lawyer
(Sept. 7) – "Are you willing to acknowledge this is a complex organizational structure that limits the liability of a corporate giant that definitely would have sufficient funds?" she asked. "What we're left with is an entity which you tell us has the financial resources necessary to cover any type of spill, but we're still doubting whether that is possible."
"No, I just fundamentally can't accept that," replied Mr. Carruthers.
"Because of the investment, everyone would want to make sure there's proper funding available in case of a spill," he said.
Janet Holder, Enbridge senior executive
(Sept. 7) – "We're doing everything in our power to mitigate against a spill."
"Believe me, Enbridge doesn't want a spill. It's not what we're in the business for. We're in the business of moving very safely, environmentally sound and in a sustainable way, product from one spot to another."
Geoff Plant, B.C.'s head lawyer for the hearings
(Sept. 7) – "The question [is] whether Enbridge is actually capable of getting the kind of insurance to ensure against the risk of liability," on whether the insurance is there should an oil spill happen.
Barry Robinson, lawyer for three environmental organizations
(Sept. 8) – "If free market economies aren't at play, where's the economic benefit?" asked Robinson about the economic effects of the hypothetical possibility of Chinese interests buying control of the Northern Gateway pipeline.
Kelowna resident James MacGregor
(Spet. 6) – The Avaaz petition "No Enbridge Tankers/Pipeline in BC Great Bear Rainforest" was started by James MacGregor and has since passed 10,000 signatures.
"BC's entire Great Bear Rainforest, its wildlife and the livelihoods of coastal First Nations are all at great risk if Enbridge's Northern Gateway pipeline is approved," he said.
"I know I'm not the only one out there speaking up about the pipeline, but I felt like I couldn't sit back and do nothing."
Source: Vancouver Observer
Hana Boye, lawyer for Haisla First Nation
(Sept. 17) – On who could end up with ownership stakes: "If we don't know who these investors are, we're not able to determine if they're financially viable, if they're market-force driven or if it's in the interest of Canadians," she said.
Crystal Lake pipeline
Chris Peters, Engineer
(Sept. 17)- Peters argues that an approval of the pipeline might mean a setback to Canada's national climate change policy aims to reduce such emissions to by 2020. That cost "should be recorded as a negative and a cost to the planet," said Peters.
trenton falls pipeline
Terry Lake, B.C. Environment Minister
(Sept. 17) – In the worry that in the event of a spill, Enbridge won't have tge insurance to cover the clean-up costs: "Enbridge and Northern Gateway are very aware of that concern now, so we'll look to their response. But we've made it clear that taxpayers will not be left on the hook," Lake said.
"I think that the company would argue they have the resources necessary. What British Columbians want to see is an ironclad guarantee that they do have the resources necessary, that the structure and the insurance in place will protect British Columbians from the cost of any adverse event," he added.


Crime and little punishment: Alberta has long way to go to fix pipeline problems
It's simply unacceptable. A company shouldn't be able to repeatedly break its own conditions of operation, violate the law, poison communities and soak landscapes in toxic oil and simply walk away with a slap on the wrist.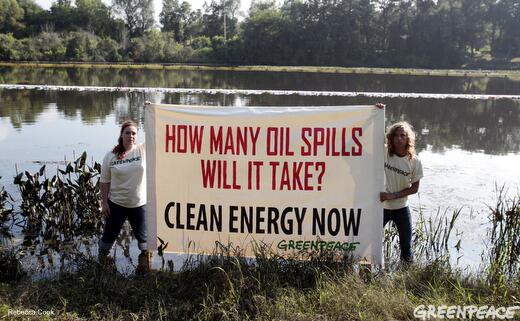 TPP threatens to undermine the very notion of the public good, by giving corporations more power to undermine public policy.

Under TPP this will get worse, way worse
However, like all things government, the narrative seems to be to first create the problem, then move to fix it by more centralization, control and dependence. It's a trend we see not just in our energy sector, but every aspect of our lives.
ThePowerFilm.org
– 'Take Back Your Power' is a hard-hitting documentary film which exposes a technocratic agenda of control, and offers solutions for co-creating a better future. Based in BC, the film brings insight from throughout North America, Europe and the world – with expert researchers, insiders, politicians, doctors, and those affected by smart meter radiation. Exposed: 'big brother' corporate-government shennanigans, the real reason for huge energy cost increases, what's behind the health dangers, and more. Human beings everywhere are uniting, and we TAKE BACK OUR POWER
Cyber expert on SMART GRID: massive vulnerability, who's accountable?



Cyber security expert David Chalk weighs in on the smart grid and its outright lack of security.

Expert Warns: 100% Certainty of Total Catastrophic Failure of the Entire Power Infrastructure Within 3 Years



State Department IG Finds Flaws in Pipeline Review
Sen. Bernie Sanders (I-Vt.): "The more we learn, the less merit there is to this project. For those of us who are concerned about the consequences of global warming and the need to cut greenhouse gas emissions, the idea of producing oil that emits 82 percent more carbon pollution than conventional oil is indefensible. We have better options for the American people that do not jeopardize the future of our country and our planet. These include increasing fuel efficiency standards for our cars and trucks, a step which would cut pollution and save up to three times as much oil as Keystone XL could ever deliver."
Sen. Bernie Sanders Page
To read the inspector general's report, click here.
The Real Foreign Interests In The Oil Sands
What Ottawa doesn't want you noticing