Archives for posts with tag:
Tar Sands


Crime and little punishment: Alberta has long way to go to fix pipeline problems
It's simply unacceptable. A company shouldn't be able to repeatedly break its own conditions of operation, violate the law, poison communities and soak landscapes in toxic oil and simply walk away with a slap on the wrist.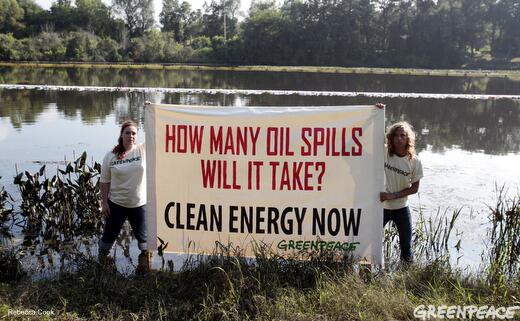 Actor and environmentalist Robert Redford recently added his name to the list of prominent individuals who are calling on President Obama to reject the Keystone XL pipeline.

Robert Redford: Tar Sands Oil Is Killing Our Planet – NRDC
http://www.nrdc.org/




Mark Ruffalo Supports The Tar Sands Action



Mark Ruffalo said : "I've seen the kind of damage that out-of-control energy development can do to water and to communities near my own home, where fracking for natural gas is causing widespread pollution … All these problems are connected — we need to get off fossil fuels."
"The world is already leaving us behind. We're being left behind. America. Because the gas and oil industry has a strangle hold on us. And our politicians."

Environmentalist and author Bill McKibben has expressed strong disapproval for the planned Keystone XL pipeline. In fact, he was one of the first of over 1,200 who were arrested at the Tar Sands Action sit-in at the White House in August.

Bill McKibben: On Sept. 21st, Draw the Line on Keystone XL



Bill McKibben on Fight Against Keystone XL, Fossil Fuel Divestment and Obama's Failures on Climate



Bill McKibben : "The people who've carried this fight for three years are indigenous people on both sides of the border who have a huge stake in it because it's on their land, and farmers and ranchers from places like Nebraska … It wasn't until I sat down and read Jim Hansen's analysis of how much carbon was in those things that I understood that this was not just a national issue, it's a global issue of the first order."

Julia Louis-Dreyfus: See You at the White House!



Dreyfus recalls when Obama said "Let us be the generation that ends the tyranny of oil." But she says, "Big Oil is still pretty much running the show." She claims that by rejecting the pipeline, Obama has a chance to "make good on [his] word."
Louis-Dreyfus asks Obama, "Denying the permit for a brutally stupid, money-grab like the Keystone XL pipeline is a no-brainer, right Mr President?"

Actress Daryl Hannah has also lent her voice to the movement against the Keystone XL pipeline.
In August, Hannah was one of the over 1,200 people to be arrested as an act of civil disobedience in front of the White House. Shouting "no to the Keystone pipeline" as she was handcuffed, Hannah made it clear she opposed the proposed Canada to Texas pipeline
Daryl Hannah: Why I Joined the Tar Sands Action

Maude Barlow, The Council of Canadians
http://www.canadians.org/
Maude Barlow, a Canadian author and activist and chairperson of The Council of Canadians, was arrested in September at a Keystone pipeline and oil sands protest on Parliament Hill in Ottawa.
She was one of over 100 protesters of the demonstration's estimated 400 to be arrested.
Barlow blogged, "I did it because I fear we are killing the planet and I can no longer be content to only write and speak about it. Today my feet spoke for me as I crossed that barricade and took away one more fear in my life."
She also said, "By investing trillions of dollars into these pipelines, governments and the energy industry are ensuring the continued rapid acceleration of tar sands development, instead of supporting a process to move to an alternative and sustainable energy system."

Maude Barlow, National Chairperson of the Council of Canadians



Kyra Sedgwick said: "Just like the BP oil spill, one glitch in the tar sands pipeline could destroy our clean water sources, possibly forever."

Kyra Sedgwick Urges the President to Reject the Tar Sands Pipeline

David Strathairn: Join the Fight Against Keystone XL

David Strathairn said: "Obama ran for office speaking of the dangers of our fossil fuel addiction, promising to fight climate change and fully embrace a clean energy future. The Keystone XL tar sands pipeline is a dangerous step away from that commitment."
Stupid to the Last Drop: How Alberta Is Bringing Environmental Armageddon to Canada (And Doesn't Seem to Care)

As Marsden describes it, the industry is so damaging and irrational that you'd think someone would slam the brakes.
Instead, projects are rubber-stamped and supported with generous tax breaks and lax oversight. Through the stories of families sickened or financially devastated by polluted water or air, Marsden describes how the government and regulators ignore victims and trample opponents.
In fact, he says, the oil sands, combined with Alberta's growing mania for extracting natural gas from coal seams by injecting toxic chemicals into the ground – thereby poisoning some of the dwindling supply of drinking water – threaten to create a parched, deforested, polluted wasteland. "At the end of the day you will have a pot of gold with no place to live."
"Why are Albertans so stupid?" William Marsden asks in his provocative new book
unveiled at the Canada Europe Energy Summit

The 'Felt Impacts of the Tar Sands' artwork to be unveiled at the Canada-Europe Energy Summit in London.
Giant artwork depicting the Canadian tar sands and the devastation being caused to ecosystems, species and First Nations communities launched by street felt-artist Lucy Sparrow outside Canada House in Trafalgar Square on Tuesday 19th will unroll an ambitious artwork outside Canada House in Trafalgar Square at the annual Canada-Europe Energy Summit next Tuesday. Inside, Canadian minister Joe Oliver will meet with the UK government, the CEO of BP, Bob Dudley and other major players in the tar sands industry to discuss undermining EU climate legislation to open up global markets to Canada's highly-polluting fossil fuels [3].
The giant felt work will block all three doors of Canada House as ministers and industry representatives from Shell, Enbridge and others arrive. It will depict in graphic detail the devastating impacts of Canadian tar sands extraction, which is undermining Indigenous treaty rights and destroying ecosystems communities rely on for traditional livelihoods.
Canadian Minister Joe Oliver last week vowed a renewed attack on the Fuel Quality Directive by launching a report which aimed to undermine efforts in the EU to reduce emissions from transport fuels [4] . With the southern portion of the Keystone XL pipeline already in place, tar sands may be entering the EU in as early as 2014.
http://www.no-tar-sands.org/2013/11/felt-impacts-unveiled/
Hundreds fill hall for pipeline forum