Archives for category:
Environment


Sechelt's New Wastewater Treatment Facility
Located in downtown Sechelt on the site of the former Ebbtide Wastewater Treatment Plant and Parks & Public Works site, the new Water Resource Centre includes a greenhouse that uses innovative organic processes to filter waste products as a key feature of the treatment process. The design of the facility integrates with the surrounding neighbourhood and the adjacent Sechelt Marsh park.
District of Sechelt Public Document Library
For information or assistance finding a document, please contact the District of Sechelt at (604) 885-1986 or email info@sechelt.ca.

The Conservative government has eliminated or terribly weakened virtually every federal environmental law:
The Fisheries Act no longer protects most fish.
The Navigable Waters Protection Act no longer protects most lakes and rivers.
The federal Environmental Assessment Act was repealed in its entirety and replaced with a law so cursory it might as well have been drafted on a cocktail napkin.
Canada remains the only country in the world that signed the Kyoto agreement on carbon pollution, only to withdraw from the treaty.
Even the impressive environmental achievements of previous Conservative governments have been dismantled, such as the National Round Table on the Environment and the Economy.
Canada's environmental laws were inadequate to begin with. In a 2005 study, a year before the Conservatives took office, Canada ranked 28th out of 30 industrialized countries for environmental performance. Harper just accelerated a miserable trend that was already well-established under Jean Chrétien and Paul Martin.
So now that Canada's environmental house has been thoroughly burned to the ground it seems to me we have an opportunity … Do we revert to the clearly substandard environmental laws of the 1980s and '90s or do we take the opportunity to create a truly modern and effective federal environmental architecture? A new, world-class series of laws and policies that for the first time qualify as something Canadians can be proud of.
This brings me to the second environmental legacy of the Harper years: … The great irony of the much-reported, politically motivated Canada Revenue Agency assault on environmental charities is that it has made traditionally cautious and low-key individuals and groups very angry. Blatant injustice tends to have that effect on people.
Rick Smith — the executive director of the left-leaning Broadbent Institute — suggests that people and non-government organizations can band together to defeat the Tories.
Sure, I'd like to see it happening. But I'm not so optimistic.
It's a nice notion to believe bad government empowers public involvement but the turnout at the poles tells a different story.
Are the NGOs still able to inspire with what can be done with positive messages?
Sorry, I don't see it.
We have been dragged down in the mud of modern politics of division – politics of denial, willfull ignorance, and fear.
Will Stephen Harper's action — or inaction on the environmental issue — strengthen the environmental movement?
Related topic:
THE HARPER GOVERNMENT HAS TRASHED AND DESTROYED ENVIRONMENTAL BOOKS AND DOCUMENTS

Would you bury poison beside your well?
http://www.stopthegreatlakesnucleardump.com/

This "out of sight, out of mind" mentality must end. We can't continue to dump garbage into the oceans, waterways and air or bury it in the ground and hope it will disappear. If we can't find better ways to use or at least reduce waste products, we must stop producing them.
The swollen Assiniboine River spills over its banks covering farm land in Brandon, Man. on Sunday, July 6, 2014.
Prime Minister Stephen Harper talks with Brandon Mayor Shari Decter Hirst and other politicians while touring the Assiniboine River flooding in Brandon, Manitoba on Sunday, July 6, 2014
Volunteers help sandbag in St. Francois Xavier, Man., Tuesday, July 8, 2014. Several days of frantic sandbagging is paying off in southern Manitoba as a crest of flood water is expected to pour through the region.
The swollen Assiniboine River spills over its banks at 18th Street in Brandon, Man. on Sunday, July 6, 2014.
Flood water from the swollen Assiniboine River covers farm land along Grand Valley Road west Brandon, Man.on Sunday, July 6, 2014.
Prime Minister Stephen Harper looks out from a helicopter at the flooded landscape around Brandon, Man. on Sunday, July 6, 2014.
Bombardier Jonathan Kaiser and other troops from Shilo work to fill and load sandbags in Portage La Prairie, Man. Saturday, July 5, 2014. The military were called in to assist with flood preparation from Portage La Prairie to St Francois Xavier.
Prime Minister Stephen Harper (right) listens to a flood briefing from Brian Kayes, the Director of Risk and Emergency Management with the City of Brandon, at Brandon City Hall during a tour of the Assiniboine River flooding in Brandon, Manitoba on Sunday, July 6, 2014.
There was little doubt the federal government would approve the Enbridge Northern Gateway pipeline project, regardless of public opposition or evidence presented against it. The prime minister indicated he wanted the pipeline built before the Joint Review Panel hearings even began. Ad campaigns, opponents demonized as foreign-funded radicals, gutted environmental laws and new pipeline and tanker regulations designed in part to mollify the B.C. government made the federal position even more clear.
Northern Gateway pipeline approved with 209 conditions
Radicals working against oilsands, Ottawa says
Is that how it is? When the government is wrong, and you voice your criticisms, the government labels you a "radical".

According to an Angus Reid poll conducted after the announcement:
37% agree with the decision,
34% see it as the wrong move, and
29% aren't sure yet.
However, nearly 70% told the polling firm they believe the project will be completed, regardless of their views of the matter.
This is defeatist.

Will this pipeline be built? The lawsuits will begin. The will cost the taxpayers millions. I think it's going to go to the ballot box in 2015. It may be their political demise.
These federal MPs have a choice: BC or Enbridge.
Urge them to choose BC at enbridge21@.ca
Let B.C.'s federal government MPs know you don't support Enbridge's Northern Gateway pipeline
http://action2.davidsuzuki.org/northern-gateway

Clean up the tar sands:
We need a clean energy strategy for Canada.
Stop tar sands expansion.
Implement readily available solutions for existing problems.
Develop a strategy to phase out tar sands development altogether,
as a part of a clean energy strategy for Canada.
We need to reduce demand for oil.
More tar sands oil is not the answer to our energy problem.
The main driver of tar sands expansion is our over-reliance on increasingly dirty oil as a primary source of energy. Rather than tripling tar sands production over the next 17 years, the most rational approach to meeting our energy needs is to reduce our dependence on oil and other fossil fuels by building a clean energy economy based on energy efficiency and low-carbon, renewable energy sources.
But in order for energy efficiency to become the rule rather than exception, it's essential that effective government policy drives investment in efficiency rather than more dirty oil production.
Every year, the Canadian government gives more than $1.4 billion in tax subsidies to oil, coal, and gas companies.
What is the amount of subsidies for renewable energies?










Northern Gateway President John Carruthers
(Sept. 4) – Northern Gateway president John Carruthers argues the pipeline is just as important to Canada as the St. Lawrence Seaway and the Canadian Pacific Railway…"when constructed, [they] laid the foundation for significant benefits for generations of Canadians. Our project is no different."
Robert Mansell, U of C School of Public Policy
(Sept. 4) – Robert Mansell, academic director of the University of Calgary School of Public Policy, argued the benefits the pipeline could have for Canada. "Just imagine a situation where, if not for Northern Gateway, you had shut in 525,000 barrels per day for one year. That loss works out to $40-million a day, or $14.4-billion per year," he said.
Leanne Chahley, lawyer for the Alta. Federation of Labour
(Sept. 4) – Leanne Chahley, a lawyer for the Alberta Federation of Labour, questioned the estimated economic gains. "It's still a social science that you're involved in, economics. How much degree of certainty should we give it?"
Gil McGowan, Alta. Federation of Labour President
(Sept. 4 ) – Albert a Federation of Labour argues the $6-billion line would mean 5% less refinery in Alberta and the loss of 8,000 jobs. "China is in the midst of a building boom in terms of refineries and refining capacity, so our fear is that if our policymakers allow this pipeline to be built we'll end up in a situation where our own homegrown refineries are no longer economic and they'll close down," federation president Gil McGowan said.
"We'll end up in a situation where we're sending our raw bitumen oil to China and then buying back the refined product."
John Carruthers, Northern Gateway President
(Sept. 4) – Northern Gateway president John Carruthers on the Enbridge's committment to environmental responsibility: "It involves assessing, in the same objective fashion, and according to the same standards, the information or evidence that has been presented by those who are opposed to the development of our project. And it culminates in approving the project under a framework of conditions that will promote reconciliation over division, and fact over rhetoric."
John Risdale, B.C. First Nations Chief
(May 2012) – B.C. First Nations leaders travel to the step of the Alberta Legislature to voice their concerns on the environmental damage. "The pipeline route that they have proposed is following the most major river system that we have and when the river is ruined, the people are ruined, the land is ruined," said Hereditary Chief John Ridsdale of the Wet'suwet'en First Nation.
Terry Lake, B.C. Environment Minister
(Sept. 4) – B.C. Environment Minister Terry Lake on how Enbridge plans to exceed world standards in spill prevention. "We certainly want to clarify with Enbridge some of the comments made over $500-million more of safety improvements and what exactly will that mean," Lake says. "In terms of monitoring, in terms of response capability, how can we ensure that any proponent would have to live up to what we consider world class response and mitigation measures."
Economist Robert Mansell, U Of C School Of Public Policy
(Sept. 5) – On the chance that the proposed Nothern Gateway pipeline would have a negative effect on central Canada's manufacturing sector: "It is not credible that one could argue this would cause Dutch disease."
"Would it do, as has been alleged — cause the rate of inflation to go up and then force the monetary authorities to tighten the money supply and thereby shrink the economy? The answer is no.
"Monetary policy is based on what's called the Core Inflation Rate, which excludes the price of food and energy."
Texas-Based Energy Consultant Muse Stancil
(Sept. 5) – In a report submitted to the hearing, Texas-based energy consultant Muse Stancil said the Northern Gateway will have an effect on oil pricing in North America: "It can be expected to have a material effect on the distribution patterns and pricing dynamics for Western Canadian crude, as crude producers for the first time will have a high-volume alternative to their historical markets within North America," said the Muse Stancil report.
"Northern Gateway allows the Canadian crude producers to both stop selling to their least attractive refiner clients (from a pricing prospective) and reduces their need to ship heavy crude via comparatively expensive rail transport."
Richard Johnston, UBC Political Scientist
Sept. 5 – On the chance the federtal Tories could lose ground in B.C. due to unfriendly policies such as support of pipelines to the west coast: "Among the risks to their base, I would put Northern Gateway highest," Johnston said.
"The risk/benefit ratio (for B.C.) is massively unfavourable in itself and if the government were to force the issue pre-emptively, they would add an additional dimension to the debate, singling out one province for ill-treatment, rather like the NEP and Alberta. I expect Conservative MPs are worrying about this aloud."
Elisabeth Graff, B.C. government lawyer
(Sept. 7) – "Are you willing to acknowledge this is a complex organizational structure that limits the liability of a corporate giant that definitely would have sufficient funds?" she asked. "What we're left with is an entity which you tell us has the financial resources necessary to cover any type of spill, but we're still doubting whether that is possible."
"No, I just fundamentally can't accept that," replied Mr. Carruthers.
"Because of the investment, everyone would want to make sure there's proper funding available in case of a spill," he said.
Janet Holder, Enbridge senior executive
(Sept. 7) – "We're doing everything in our power to mitigate against a spill."
"Believe me, Enbridge doesn't want a spill. It's not what we're in the business for. We're in the business of moving very safely, environmentally sound and in a sustainable way, product from one spot to another."
Geoff Plant, B.C.'s head lawyer for the hearings
(Sept. 7) – "The question [is] whether Enbridge is actually capable of getting the kind of insurance to ensure against the risk of liability," on whether the insurance is there should an oil spill happen.
Barry Robinson, lawyer for three environmental organizations
(Sept. 8) – "If free market economies aren't at play, where's the economic benefit?" asked Robinson about the economic effects of the hypothetical possibility of Chinese interests buying control of the Northern Gateway pipeline.
Kelowna resident James MacGregor
(Spet. 6) – The Avaaz petition "No Enbridge Tankers/Pipeline in BC Great Bear Rainforest" was started by James MacGregor and has since passed 10,000 signatures.
"BC's entire Great Bear Rainforest, its wildlife and the livelihoods of coastal First Nations are all at great risk if Enbridge's Northern Gateway pipeline is approved," he said.
"I know I'm not the only one out there speaking up about the pipeline, but I felt like I couldn't sit back and do nothing."
Source: Vancouver Observer
Hana Boye, lawyer for Haisla First Nation
(Sept. 17) – On who could end up with ownership stakes: "If we don't know who these investors are, we're not able to determine if they're financially viable, if they're market-force driven or if it's in the interest of Canadians," she said.
Crystal Lake pipeline
Chris Peters, Engineer
(Sept. 17)- Peters argues that an approval of the pipeline might mean a setback to Canada's national climate change policy aims to reduce such emissions to by 2020. That cost "should be recorded as a negative and a cost to the planet," said Peters.
trenton falls pipeline
Terry Lake, B.C. Environment Minister
(Sept. 17) – In the worry that in the event of a spill, Enbridge won't have tge insurance to cover the clean-up costs: "Enbridge and Northern Gateway are very aware of that concern now, so we'll look to their response. But we've made it clear that taxpayers will not be left on the hook," Lake said.
"I think that the company would argue they have the resources necessary. What British Columbians want to see is an ironclad guarantee that they do have the resources necessary, that the structure and the insurance in place will protect British Columbians from the cost of any adverse event," he added.


Crime and little punishment: Alberta has long way to go to fix pipeline problems
It's simply unacceptable. A company shouldn't be able to repeatedly break its own conditions of operation, violate the law, poison communities and soak landscapes in toxic oil and simply walk away with a slap on the wrist.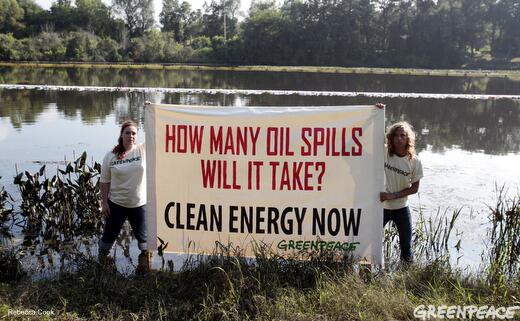 Tar Sands Greenwash: Buying Ads is Easy



Tar Sands Greenwash: Good News, Bad News



Tar Sands Greenwash: Greenwash 2.0